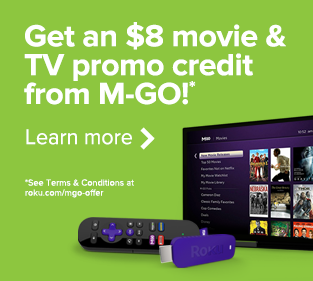 ZoneOutTV-HD
Developer: TechApplication.com, LLC
This is the premium version of the popular free ZoneOutTV, an expanding series of beautiful video ambiances to enjoy, relax and decorate with.

Each ZoneOutTV HD episode is available in single play & loop mode at HD quality. Many are also available in Sleep mode, for those who use ZoneOutTV through the night.

Both the visuals and the audio are designed to provide a pleasing and restful ambiance that can transform your living room, bedroom, family room and even waiting room. Users play ZoneOutTV while reading, relaxing, eating and even sleeping.

Viewer comments from the channel's Facebook page:

"I love this channel, the whole family loves it esp the toddler. She loves happy moo moo's and always asks for more jets when we watch jetland. K.W."

"This is by far the best Roku channel. We have it on during parties and when we're reading or just talking on the couch. P.S."

"My wife and I go to sleep every night leaving Jenner By The Sea on our ROKU until morning. We love it! S.L."

"I have been looking for a channel like this for a long time. J.B.T."

"First....LOVE, LOVE, LOVE this! I'm a marriage/family therapist and plan to incorporate this into my office. S.B.M."

"You rock! I'm a nurse on a Neurosurgery unit…I work night shift and this is the perfect background to help me relax and unwind… N.C."

"My momma loves watching the cows and the fish. She has Sundowner's Syndrome and it really helps her relax... L.L."