Meet Roku
With 450 channels and counting, Roku players give you the best selection of streaming entertainment including Netflix, VEVO, Crackle, NHL GameCenter and so much more!
What is Roku?
Roku makes it easy to enjoy the hottest movies, TV shows, music, games and more on your TV by streaming it directly from the Internet. Millions of people use Roku players every day to watch their favourite entertainment instantly and on demand.
Easy as 1-2-3
Roku players connect directly to your TV and to your high-speed Internet service via your home network. Even set up is a snap with our guided walkthrough. No tech support or nerdy nephew needed.
What else is needed?
Really, just two things: 1) A TV--new or old*. 2) Broadband Internet connection with a speed of at least 1.5 Mbps (like DSL). A major bonus would be a comfy couch.
* Roku 3 & Roku Streaming Stick (HDMI Version) work with HDTVs only
No hidden costs
There are no recurring fees for using our players, and every player is packed with tons of free channels to enjoy right out of the box. While we don't charge a monthly subscription, some of our channel partners do. You choose what you pay for and what you don't. Choose your Roku
What people are saying
So many wonderful things. Ask any one of our five million customers. Read more reviews
Instant thrills, laughs and chills
Roku offers the best Netflix experience, featuring up to 1080p HD video plus support for English subtitles. What's more, there's a huge range of free movies from Crackle. And with new TV shows and movies being continually added, you'll never be short of something good to watch.
Plus even more choices
Roku delivers more than films and TV shows. You can access a wide selection of streaming entertainment, with more coming all of the time. There's live sports, the latest news, photo and video sharing and much more. You'll never be without something great to enjoy.
Tons of live sports
Roku streams the action with the biggest selection of live streaming sports packages out there, including MLB.TV, NHL GameCenter, MLS LIVE, UFC and more. Depending on the league and your subscription, you enjoy live and on-demand out-of-market games on your TV in HD.
It's playing your song
With Roku in the room, play music anytime. Enjoy music channels like Rdio, and listen to as much music as you want. There are also other great music channels from Classical TV, TuneIn, Radio Paradise and Soma FM. Discover new music from around the world or rediscover your old favourites.
TV time, anytime
When you need to keep the volume down but still get your TV fix, Roku 3 and Roku 2 feature an enhanced remote with built-in headphone jack. Just plug in the included in-ear headphones to enter your own private listening world. It's perfect for cranking up that late-night action movie without waking the spouse. Or kids. Or dog.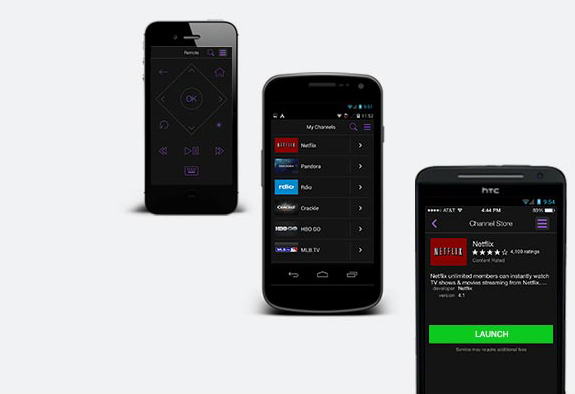 You're in control
Choose between the simple remote that comes with all our players, or the ability to control your player with your smartphone or tablet. Instantly start a TV programme, replay a favourite movie moment, browse through the Channel Store - all from the palm of your hand. There's even a useful virtual keyboard if you prefer to type rather than swipe.
Channel Y-O-U
Wouldn't it be great to get all the photos, songs and videos* you keep on your phone instantly on your TV? Ah, great minds think alike. Our free Roku app for iOS and Android lets you post that vacation slide show right on the big screen for everyone to enjoy. Say goodbye to the couch huddle.
Available for FREE on
So easy
From the simple remote to the easy-to-use interface, Roku players were designed to please everyone. All you need to get started is a high-speed Internet connection, and an HDTV, for Roku 3 & Roku Streaming Stick (HDMI Version). With every Roku product, the built-in wireless and guided setup mean you'll be up and running in minutes. And we bet you don't even have to call your nerdy nephew for help.
What Internet connection do I need? You need a high-speed Internet connection with a speed of at least 1.5 Mbps (such as mid-level Broadband). If you are unable to connect the player directly to your cable or Broadband modem you may also need a wired or wireless router. A faster broadband connection may be required to watch some channels.
This small. That fast.
Roku 3 is the most powerful, responsive streaming box we've ever built. It features the latest wireless technology for even better performance in more rooms in the house. And it can stream a movie using less power than a nightlight (and 30 times less than a popular game console). Wow.
Fling those Angry Birds!
Need a break from the movies? The Roku 3 enhanced game remote features game-ready buttons and motion-sensing technology that lets you play games with a simple flick of your wrist. Top titles available include Angry Birds Space and Jeopardy.